The Singing Cipher was on display in the Pierogi Gallery booth at the 2007 Armory Show (Feb 22-26, 2007). Tucked in among 10 home-depot's-worth of art, it delighted passers-by from all walks of life.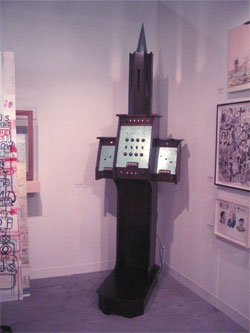 Dec 31, 2005-Jan 30, 2006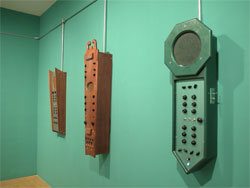 Pierogi Gallery
in Brooklyn, NY and consisted of 12 wall-mounted melody gins which produced occasional electronic utterances at ever-shifting intervals of time. A Rotary Ordinator coordinated them for the last performance.
read more
Press
New York Times
Art Forum
artnet
LIVE IN-GALLERY PERFORMANCES
Jan 7, 7:30 pm:
Rhythm Hour
Dewanatrons in concert
Jan 14, 7:30 pm:
An Evening of Serendipitous Counterpoint
The Dual Primate Console joined by live musicians:
Ted Gannon - vibes, flute, trombone
Kurt Hoffman - bass clarinet
John Keen - bass trombone, jaw harp
James Maher - mandolin, fiddle
Tony Maimone - banjo bass
Joe McGinty - melodica
David Scher - fetid wheeze horn
Kevin Walsh - trombone
Jan 21, 7:30 pm:
Laffpix Film Archive at Large
Silent film show curated by Mark Newgarden with accompaniment by the Dual Primate Console, Will Holshouser on accordion, and David Scher on clarinet.
Jan 28, 7:30 pm:
Rotary Ordination
Debut application of Rotary Ordinator, wiring signals to 12 wall-mounted Melody Gins, locking their notes into a contrapuntal mesh.